PIGMENTO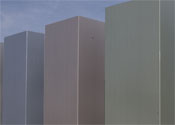 The PIGMENTO range is based on QUARTZ-ZINC to which mineral pigments are added.
3 colours are available: PIGMENTO blue, red and green.
This coloured finish preserves the naturally grained texture of pre-weathered zinc.
The coating and pigments do not in any way alter the environmental properties of pre-weathered VM ZINC. Moreover, the coating does not contain chromate.