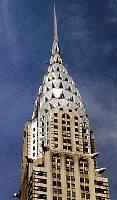 History of Stainless Steel
In 1912 the English metallurgist Harry Brealey invents stainless steel in his search for an alloy to protect cannon bores from erosion.
During World War I, stainless steel is used to manufacture valves for aircraft engines. In the 1920s, Sheffield cutlers start regular production of stainless steel cutlery, surgical scalpels and tools. Then in 1924, the first stainless steel roof makes an appearance in America. by 1928 the brewery industry installs the first stainless steel fermenting tank and in 1929 the first stainless steel tanker is used for transporting 3,000 gallons of milk.
The Chrysler Buildings top seven arches (top right) are clad in stainless steel. This New York City landmark is one of the worlds most recognized skyscrapers.
In 1931, the first stainless steel railway carriage appears in the US. Also, Rolls Royce produces the first stainless steel radiator grill and emblem, and in 1933 Stainless steel kitchen sinks and furniture are introduced.
By 1950 Stainless steel is used with increasing frequency for car accessories and in 1954, the first stainless steel underwater TV camera is made. In 1963 the first stainless steel razor blades are produced. 1969 and the first men on the moon (Apollo 11) are taken there by a stainless steel Saturn V Rocket.
Since the 1970s Stainless steel is increasingly used for roofing and is now available in a variety of finishes, shiny, matt or tin coated and thicknesses ranging from 0.4 to 0.6mm.